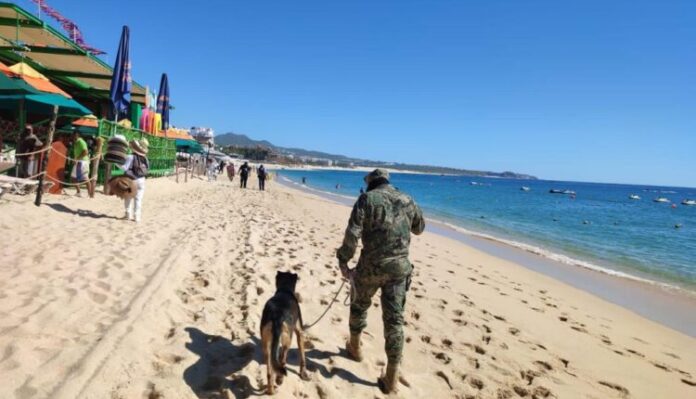 Elements of the General Directorate of Public Security of Los Cabos, in coordination with the Secretary of the Navy ( SEMAR ), continue with the Binomial Canine Operation, with the aim of preventing unlawful behavior, such as drug dealing on beaches and in the downtown area of ​​​​the delegation from Cabo San Lucas.
According to data provided by the General Directorate of Public Security, Preventive Police and Municipal Traffic of Los Cabos, in the month of August 28 operations were carried out with canine pairs in coordination with the SEMAR with a total of 18 people detained for administrative offenses, actions that have given good results in terms of countering the crime of drug dealing.
On a permanent basis, tours of the security elements have been implemented in the center of the Cabo San Lucas delegation, Marina area, El Médano beach, bars, and nightclubs, with the aim of inhibiting illicit acts such as the sale of substances. prohibited, carrying out a review of the areas of greatest conflict, for the prevention of behaviors that put at risk both the residents of the municipality of Cabeño and national and foreign visitors.
It is in security table meetings, where authorities from the three levels of government have followed up on the crime of drug dealing, in which they present the numbers of arrests in the operations, highlighting that most of the seizures are for administrative offenses and for possession of illicit substances. 
Only in the month of July and August, the Canine Binomial Operative of the Secretary of the Navy carried out 64 operations in the bay of Cabo San Lucas, in order to counteract drug dealing behavior on the coasts of the municipality of Los Cabos, which constitutes a federal crime.