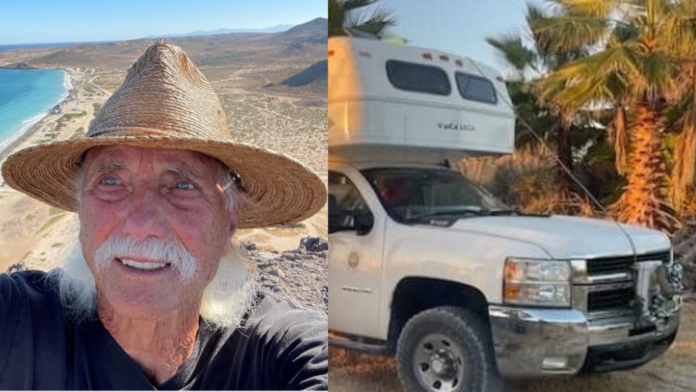 An 80-year-old man who used to live in San Diego went missing in the Baja California Sur region of Mexico, according to his friends, family and Mexican authorities.
William "Dean" Trivett went missing nearby the Arroyo Santa Cruz area around 6:45 p.m. on Feb. 11, 2023, according to the flyer his friends created.
Mexico's State Search Commission for Baja California Sur also released a flyer about Trivett's disappearance. The search commission says he was last seen in the Las Brisas camping area, north of Villa Santa Cruz, in Todos Santos, driving a truck.
Trivett drives a white, 2010 Chevrolet Silverado equipped with a camper, with California license plate tag 6LDE817.
Trivett is described as a white man with white and gray hair and a white mustache. He is about 5 feet and 7 inches tall, has blue eyes, bushy eyebrows and is skinny, according to the search commission.
At the time of his disappearance, Trivett was wearing blue, denim pants, a long-sleeved checkered flannel shirt and a dark-colored hat. He has a tattoo reading "Deano" on his outer bicep.
His Chevy is missing as well, and it has a longhorn logo reading "Vaca Loca" on the front of it. Mexican authorities also said a green kayak was on top of the camper.
Trivett currently lives in Markleeville, California, but he was a member of the San Diego community for years.
Barnet English, one of Trivett's close friends, said he noticed the missing man's dog show up at a friend's house without him.
"Dean and his truck/camper are missing, but he would never, ever, leave his dog behind, and his phone goes straight to voicemail," English said. "He was seen the night before, and is a seasoned Baja traveler, but for him to be separated from his dog is very, very concerning. There is a large and worried community in SoCal and Mexico who are desperately trying to spread the word of his disappearance."
English is the founder of the Joshua Tree Music Festival, which Trivett frequently attended. Another friend mentioned to ABC 10News he worked at the festival as well.
The search party has filed reports with Mexican authorities and checked hospitals in the area as well.
If you see Trivett, his friends are asking you to call the Mexican Search Commission: 612-138-1439. They're offering a $3,000 reward for information that leads to his discovery.
Source: 10News