Authorities in the US state of Texas have advised American citizens not to travel to Mexico during the spring break holidays for security reasons.
The Texas Department of Public Safety (DPS) said that drug cartel violence represented a significant threat to anyone crossing into Mexico.
It comes after four Americans were kidnapped shortly after crossing the border last week.
Two of them were murdered, while two were released unharmed.
Three American women who went to Mexico to sell clothes at a market have been missing for more than two weeks.
"Drug cartel violence and other criminal activity represent a significant safety threat to anyone who crosses into Mexico right now," said DPS Director Steven McCraw.
"Based on the volatile nature of cartel activity and the violence we are seeing there, we are urging individuals to avoid travel to Mexico at this time."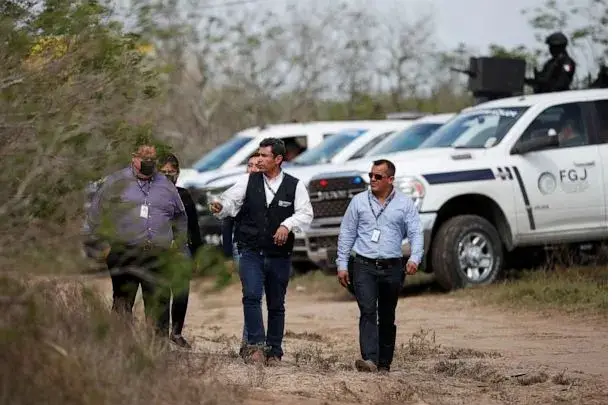 Four Americans were kidnapped by a drug cartel, and two of them were murdered, when they visited the town of Matamoros, Mexico, earlier this month. A Mexican bystander was also killed in the shooting.
The cartel responsible has since apologized for the incident and handed over its own gunmen to the police.
A letter left with the cartel gunmen, who had been left on the roadside, accused them of acting "under their own decision-making and lack of discipline" as well as supposedly breaking cartel rules over "protecting the lives of the innocent".
It was signed by the "Scorpions Group", a splinter faction of the powerful Gulf Cartel.
Mexican authorities believe the gang members mistook the Americans for rivals and shot at them when they tried to escape.
The incident threatens to sour relations between the two countries.
A Republican senator has urged President Joe Biden's administration to allow the deployment of US troops over the border to fight the cartels.
Mexican President Andrés Manuel López Obrador called the proposals "arrogant".
Meanwhile, two sisters from Texas and a friend are missing in Mexico after they crossed the border last month to sell clothes at a flea market, US officials say.
The husband of one of the women reported their disappearance to police in Texas after days going by without news.
"We don't know if they made it there," Roel Bermea, police chief in the border town of Penitas, told the AFP news agency.
The FBI had been notified, he added.
Source: Excelsior