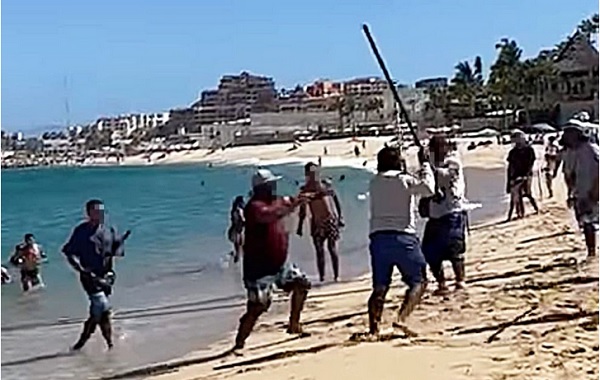 Los Cabos, Baja California Sur (BCS). For the second time this week, a video of a fight between unknown subjects in Baja California Sur goes viral. This time it was a group of men who hit each other —even with plastic furniture, oars, and sticks— on El Médano beach, in Cabo San Lucas. There is no report of injuries or people arrested.
People on social networks and the local media expressed their disagreement with the authorities for not being present at the time of the fight.
"I went to have fun at El Médano beach with my children and this was what we saw there. This is not okay. Adult men fighting like savages right there on the beach. I hope that the authorities pay more attention, fortunately, they did not kill themselves", a lady wrote on Facebook.
Another user on social networks wrote: "What a terrible demonstration of the hatred that prevails in this country, that is in part fueled by the speech of our president Lopez Obrador, where is the police when they are needed", what a shame. They look like animals and not people, they should be expelled from the beach".
Source: bcsnoticias.mx