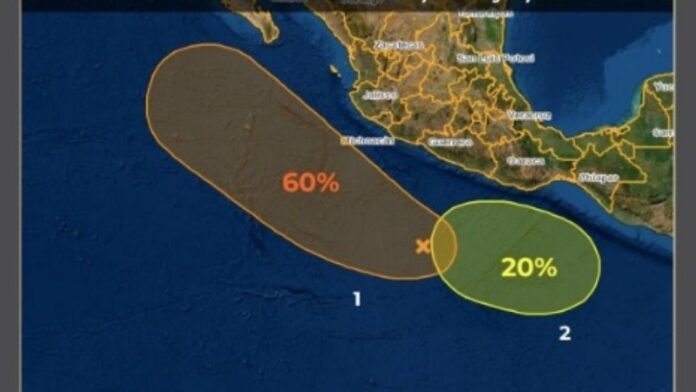 Will "Javier" and "Kay" activate one after another in the next few days? The cyclone and hurricane season is more than reinforced in the Pacific.
Mexico.- The month of August is closing with an important reinforcement for the development of cyclonic systems; On Tuesday morning, the National Weather Service indicated that there is no longer one, but two risks of tropical storm activation.
The first active low-pressure zone since Monday, has continued to increase its cyclonic potential and at the moment registers a 30 percent probability for cyclonic development in 48 hours and from 60 to 5 days and if it activates as a tropical storm it will bear the name of " Javier". 
It is located approximately 560 kilometers south of Lázaro Cárdenas, Michoacán, and moves west-northwest parallel to the national coasts; If the forecast holds, it will follow a course very close to the Baja California Sur Peninsula. 
But in addition, the climate agency reported this Tuesday morning that it foresees the formation of a low-pressure zone off the coasts of Oaxaca and Chiapas with a 20 percent probability of cyclonic development in five days. 
If activated, it will be system 11 of the 14 to 19 forecast for the Pacific and will be called "Kay"; this system could absorb part of the moisture left by the first active storm and increase its potential in the next seven days and gain considerable strength. 
The Meteorological Service recommends that the population remain attentive to the information that will be released in the following hours on both systems, since climatic variations remain constant and changes could be activated from one moment to another.
It is not ruled out that in the next few hours a special session will be activated to report on the potential risk of activation of tropical cyclones, so this first warning helps the population to take forecasts and avoid any eventuality due to these systems.