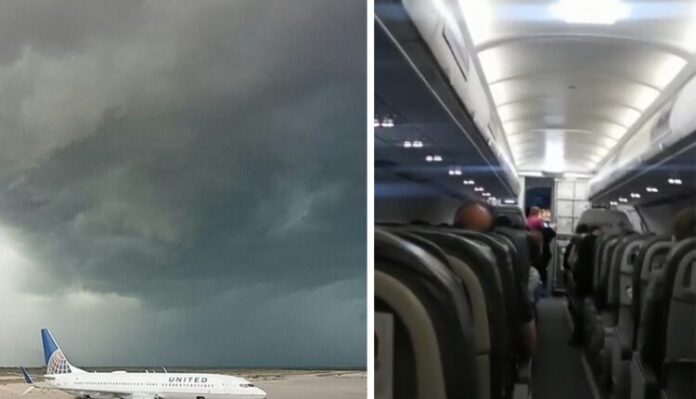 Since last night, the Los Cabos International Airport announced that despite the effects of rain and wind that " Kay " will leave in the municipality, the air terminal will not suspend its operations, clarifying that changes in flight itineraries or cancellations were directly the responsibility of the airlines.
In the latest report released by the airport, it mentioned that there was a record of 20 flights that were rescheduled or canceled due to bad weather at the destination.
But not all airlines decided to cancel, opting to venture out and be able to fulfill their commitment to provide service to their users, this afternoon flight 338 of the Volaris airline took off from Mexico City to Los Cabos, which according to a testimony As reported by a passenger named Yukie Ramirez, the flight in its first minutes was like any other. After almost two hours of flight, before landing, wind and rain complicated the arrival of the aircraft.
Through a video that he shared on social networks, it is observed how the passengers are nervous and experience moments of tension after several landing attempts by the plane's captain; According to the story of the head passenger who was on board, the plane flew over the air terminal for several minutes before descending, but due to bad weather, the plane was unable to successfully complete the descent.  
"I started recording because I noticed that before arriving there was too much turbulence and that it took a while to descend. Then it began to go around several times, that is how the passengers felt it, because suddenly it rained and then it stopped. Several attempts went by, as the plane bobbed up and down to try to accommodate, but we were able to land hard, but okay. During the recording we did notice that people were nervous, but when they arrived safely, the passengers were happy, they applauded and thanked the pilot" .
The video has a duration of one minute and six seconds, where you can see in detail how Yukie captures the landing maneuvers performed by the pilot at all times, at the end of the video you can capture the happiness and joy of the passengers who They are grateful that they arrived safely at the tourist destination of Los Cabos. 
At the close of this edition, the Los Cabos International Airport has issued a statement about the events that occurred or if other flights that have arrived at the air terminal have had complications in order to land, this derived from the bad weather that Hurricane "Kay" is causing. .