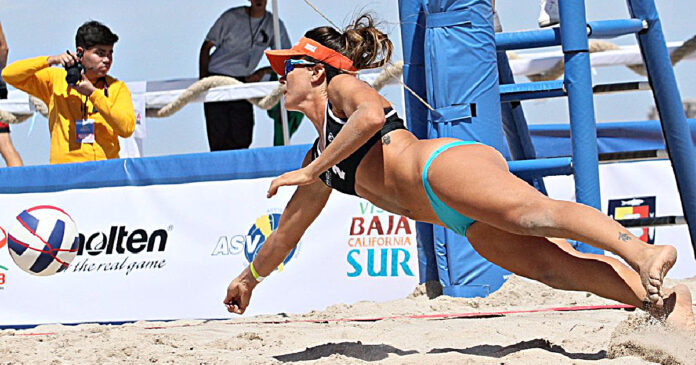 Accompanied by Ana Gabriela Guevara, Governor Víctor Castro said that the sporting event will be one of the most important of the year
La Paz, Baja California Sur (OEM-Informex).- From March 16 to 19, La Paz will host the Beach Volleyball World Tour "Challenge-La Paz, BCS 2023" a sports fair that will have the participation of 68 pairs of the best representatives of this discipline in the world. The governor of the state, Víctor Manuel Castro Cosío, announced that this will be one of the most important sporting events of the year, where Baja California Sur will continue to position itself as one of the most prominent places in the world to practice this sport.
"We are going to continue supporting the sport, we are going to support the selective beach volleyball world championship throughout these days, we are going to fill the boardwalk with joy during these days. Sport must be the spearhead to fight against what harms communities. We complain, but if we do not support sport and culture, my speech will be hollow; sport cannot be at the end of budgets, here we already invest more than 30%".
To announce this important event, the general director of the National Commission for Physical Culture and Sports (CONADE) Ana Guevara, the president of the Mexican Volleyball Federation Jesús Perales and the director of the Instituto Sudcaliforniano del Deporte, Gilberto Garciglia Higuera.
Challenge-La Paz, BCS 2023 will be the highest worldwide competition that is part of the International Beach Volleyball Federation tour, where they will receive the best 24 couples from the men's and women's divisions, which includes world champions and national champions from different countries that will be visiting them.
It will be taking place on the beach of La Paloma in La Paz where a stadium for 2 thousand spectators will be set up. Athletes who compete in this sports fair have been adding points, there are more than 60 couples from different parts of the world who will be competing for the world ranking where they add points to qualify for the Paris 2024 Olympic Games.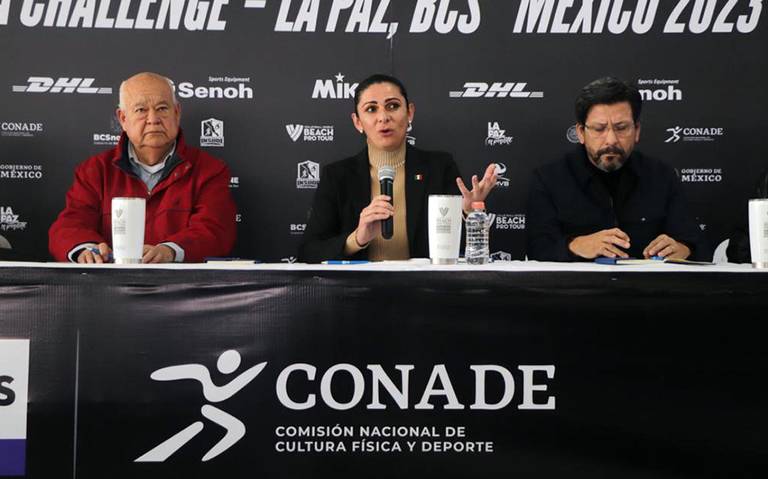 "I am very honored to come to La Paz to make this announcement of this great challenge beach volleyball event, the truth has been very pleasant to be able to host this type of event in our country, especially for what it represents sportingly, but above all the spectacularism that this sport offers, it really is a great party" expressed Ana Gabriela Guevara, head of CONADE.
She said that the challenge that world athletes who participate in this next beach volleyball match is to be able to add points that will allow them to reach the 2024 Olympic Games based in Paris, in such a way that it will be a high-level sporting event that will be developing in these four days in La Paz with high performance athletes.
"You will be able to enjoy this great event. Of course, NORCECA is a good level of volleyball but what they will have will be an event where the best in the world come and behind it there will also be the opportunity for Baja California Sur, La Paz, which will host this event, to be in the eyes of the world, the great advantage that world events have is that it will be seen in many countries, in all those media outlets that follow the tour and those who participate give this opportunity to potentiate it".
Guevara advanced that the percentages that have been made in the analysis to carried out each event are high in the level of knowledge and the change of perspective that it had on the host cities, both for visitors and for those who watch the sport through television, this will be a good time to show the best of La Paz as well as the benefits that Baja California Sur has, all promoted through sports, specifically one that is as well-known and applied in the state as beach volleyball.
For his part, the president of the Mexican Volleyball Federation, Jesús Perales, thanked the Government of Baja California Sur, as well as CONADE for the effort and intensity that they are making so that the middle peninsula is the venue for such important events, acknowledged that there has been an important effort that has been made before the international federation so that it is possible for Mexico to have events of this nature.
"For us as a federation, it is the opportunity for Mexico to continue to grow and continue to have events of this nature and magnitude, of course, in addition to having an important event, It will have a tourist well-being because many people will come, this is an opportunity for Baja California Sur to continue growing in development and this does a lot of good for Mexican volleyball."
"Challenge-La Paz, BCS 2023", will be taking place on the aforementioned date in the Malecón area, where national and international events have already taken place.
Source: Sudcaliforniano