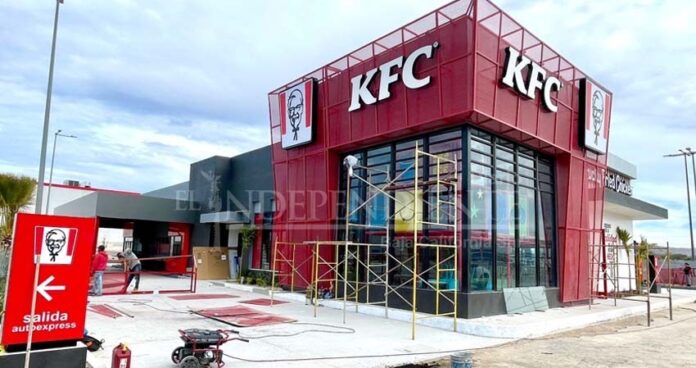 It will be together with the transnational franchises of Carl's Junior and Starbucks.
La Paz, Baja California Sur.- After four decades of absence, the franchise originally from Louisville, Kentucky Fried Chicken (KFC) returns to the capital of Baja California Sur (BCS), as it will be two more weeks from now that it will open its doors.
The transnational will be in Plaza Galerías to the north of the city, along with other important American food franchises such as Carl´s Junior and the Starbucks cafeteria, as well as the Liverpool chain restaurant.
The chain that owns the Colonel Sanders recipe will have a children's play area and a self-service area, as well as the delivery of new recipes in the market that other franchises do not handle, such as chicken with herbs.
It is not the first time that the food chain specialized in chicken meat has settled in La Paz, since in the 80's, a relevant decade for the economy of the capital of South California, the chain arrived, however given the monetary conditions for which crossed the city, ended up in bankruptcy, withdrawing from the market.
KFC returns to Baja California Sur, as did the Pizza Hut franchise and Danessa Ice Cream, although the Danessa did not come with its own branches, but rather as part of the Oxxo chain offers.
It should be noted that speculation about the service, flavor and quality of the products will be elements to be evaluated by the Sudcalifornians, since they already warn on social networks that it will be difficult for them to beat a California Chiken or, Super Chicken.
Source: Diario el Independiente