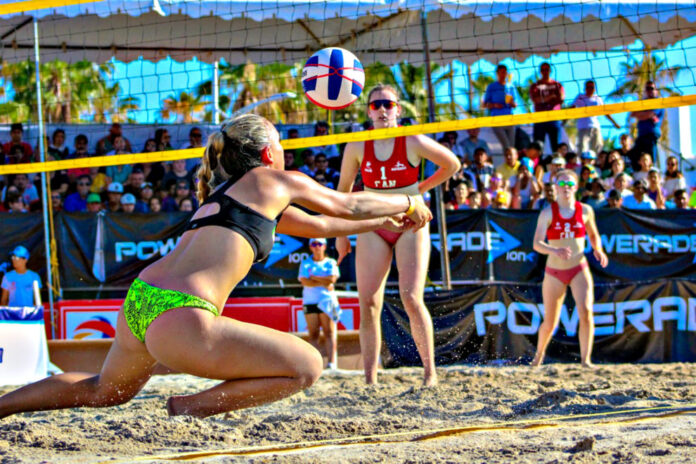 The next international volleyball tournament to be held in La Paz, will have a mountable stadium for 3,000 spectators
La Paz, Baja California Sur (BCS). The Sudcalifornian Sports Institute (INSUDE) announced that work has intensified in the organization for the Volleyball World Tour, an event for which they will receive a mountable stadium for 3,000 spectators and will be installed in the capital of Baja California Sur.
"As of Monday, a mountable stadium with capacity for 3,000 people will arrive in this city to enjoy the matches on comfortably seated, but additionally 3 playing and warm-up fields will be placed, to be able to give a high-level tournament that It will be held for the first time in the state", explained the operational director of INSUDE, Joel Castro López.
Next Wednesday work for the Beach Volleyball Challenge World Tour begins, which will last from March 15 to 19, with the participation of 96 couples in the 2 branches is expected.
Castro López stressed that this event caused great interest, which is why more than 200 couples tried to register with the FIVB, especially since it is the first tournament that will provide points for the Paris Olympic Games in 2024.
Representatives from the United States, Canada, Brazil, Argentina, Chile, Italy, the Czech Republic, Japan, Spain and Mexico will compete.
The Ministry of the Environment and Natural Resources (SEMARNAT) and the Federal Maritime Terrestrial Zone (ZOFEMAT), together with Civil Protection, Public Safety, Security and Transit, the Ministry of National Defense (SEDENA) and the La Paz City Council will collaborate in maintaining the safety of athletes and the audience, something that will also benefit the entity with a positive perception for tourists, in addition to leaving a significant economic benefit.
Source: BCSNoticias