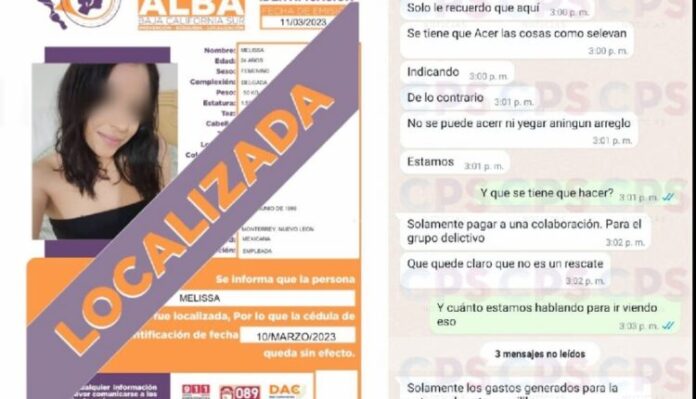 Melissa "N", a tourist from Monterrey, Nuevo León, was reported missing on February 27, after traveling from the city of La Paz to the municipality of Los Cabos during her vacation in Baja California Sur.
On Sunday, March 12, the State Attorney General's Office (PGJE) confirmed the location of the 24-year-old girl. The girl was found safely in the tourist destination, as reported by the security agency through a statement.
The work of the search groups for missing persons in La Paz and Los Cabos played a fundamental role in achieving the discovery of the northern traveler. The tracking teams supported the corresponding authorities to locate the tourist after 13 days of searching.
Unofficial information obtained by CPS News, showed that the tourist and her partner were victims of a robbery in the Los Cabos municipal capital. Both were stripped of all their belongings by unknown subjects, being left with no communication to report to their relatives in Monterrey.
The sister of the woman who disappeared in South Californian territory was the one who reported the case to the authorities. The non-localization report mobilized the search groups that collaborated with the PGJE to find the Melissa, even though they experienced an extortion attempt before the woman was found.
Through text messages and WhatsApp audios, an alleged criminal group contacted the members of the search group to request a ransom in exchange for the delivery of the woman. The extortionists asked for 30,000 pesos in exchange for the release of the young woman; 15 thousand pesos would be deposited in a bank account with number: 150 880 2470 in the name of Diana Aglae V.; another 15,000 pesos would be delivered in cash at a point chosen by the extortionists and the members of the exchange.
"Are you interested in getting your relative back or not? I remind you that things have to be done here as we are indicated. Otherwise, no agreement can be reached, ok? It is only paying a collaboration for the criminal group, which is clear that it is not a ransom. Only the expenses generated for the delivery of the chic. It's 30,000 pesos," wrote verbatim the alleged kidnappers, who wanted to make the search agencies believe that they had the girl deprived of her freedom in Los Cabos.
The failed extortion arrangement coincided with the report of the location of the young woman in Cabo lands. After protecting the young woman and her partner, the PGJE authorities were alerted to the modus operandi used by the group of extortionists to receive payment for the fictitious release of the tourist who no longer prospered due to the deactivation of the Alba Protocol to find the whereabouts of Melissa, who is safe and sound and, on her way, to reunite with her family in the north of the country.
Source: Zeta Tijuana