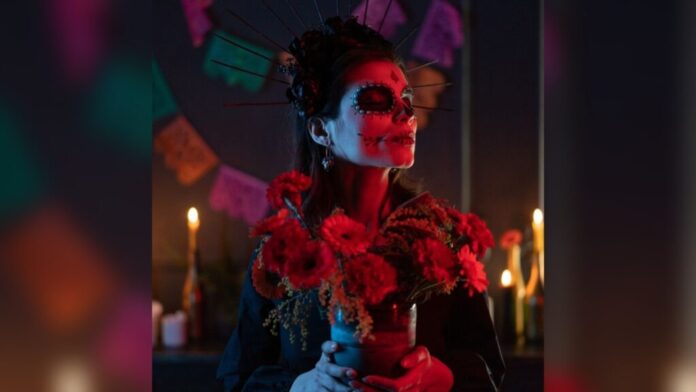 Los Cabos is preparing to live an unprecedented gastronomic experience with the arrival of OFRENDA by Inferno Fest, an event that promises to ignite the senses and celebrate Mexican culture within the framework of the Day of the Dead festivities.
From November 1 to 5, 2023, the Baja California peninsula will become the epicenter of luxury gastronomy and the fusion of ancient traditions.
OFRENDA by Inferno Fest is a five-day themed event that brings together the best chefs from Baja California Sur and the world, with the purpose of creating a culinary tribe in honor of fire and the ancestral roots of Mexican gastronomy.
Leading this gastronomic crusade is the renowned chef Abraham Tamez, whose talent and passion for cooking have transcended borders and have allowed him to be recognized as one of the main exponents of haute cuisine in Mexico.
OFFERING by Inferno Fest, the idea that started with "a roast beef"
Chef Abraham Tamez says that the idea of OFRENDA by Inferno Fest began as a meeting between friends to, literally, make a "roast meat."
"The event started five years ago as something between friends, my partner René has an audiovisual production company and he told me 'I want to put out the entire production to show it, why don't you get together to make a roast carnita'," he recalls in an interview.
"We decided to square it with something from the Day of the Dead to have a little culture, and tune it with something we brought from heavy rock," says Abraham Tamez.
What makes OFRENDA by Inferno Fest special is its focus on exotic gastronomy and mixology with ancestral inspirations.
Each dish and drink served at this festival is a work of culinary art that pays tribute to the traditions and flavors of Mexico, in a journey of flavors that awakens the senses and connects with the cultural roots of the region.
Chef Abraham Tamez remembers that the festival started with 16 chefs five years ago, and for this 2023 edition they will have the participation of 101 chefs.
Among the guest chefs will be MaryLu Gidi, from Torreón, Coahuila, who told us what she will prepare.
"Something that fascinates me is the marrow, suddenly half demonized, but the truth is that it gives an incredible flavor. For the dinner that we have as part of the Divina Costillas, as the group of women that we are going to be representing at the event is called, the part that I have to do is make bone-in rib eyes, roasted, we are going to flame them with a little tequila, we are trying to follow the line of the Mexican offering," said chef MaryLu Gidi.
"As an accompaniment, we are going to make a risotto that I make with roasted bone marrow and we are going to add beer, instead of white wine. The flavors go together super rich," she said.
But OFRENDA by Inferno Fest is not only a feast for the palate, it is also an experience that fuses culture, luxury and business. This event, which attracts lovers of gastronomy and haute cuisine from all over the world, has become a unique opportunity for local entrepreneurs in Los Cabos.
Several local entrepreneurs have joined this initiative, recognizing its potential not only as a culinary celebration, but as a platform to promote and expand their businesses.
La OFRENDA by Inferno Fest has become a collaborative space in which the business community of Los Cabos meets around culture and gastronomy.
With its focus on the fusion of gastronomy, culture and business, OFRENDA by Inferno Fest is destined to become an emblematic event in Los Cabos, which will not only delight the most demanding palates, but will also foster economic growth, and collaboration in the region.
Don't miss the opportunity to live this unique experience in Los Cabos, where the fire of gastronomy meets the passion of culture and entrepreneurial spirit.
What activities will there be at OFRENDA by Inferno Fest?
• November 1st
Tour of some restaurants of participating chefs, from the Historic Center of San José del Cabo.
• November 2
Ofrenda by Inferno Fest moves to the sea of Los Cabos for a colorful nautical parade for the Day of the Dead thanks to Altares en el Mar and Rent a Yatch 4 Fun Los Cabos.
• November 3
Flor de Muertos tribute dinner
In addition to paying tribute to chefs Ángel Carbajal, Armando Montaño, Gerardo Rivera, Volker Romeike, Thierry Dufour and Edgar Román —who have significantly influenced local gastronomy, even serving as mentors for other talents—, there will be a colorful and delicious dine in an environment that promotes friendship and camaraderie.
The tribute will also include the participation of 10 renowned chefs that make up "La Divina Costilla", including Anahí Silva, Belén Cortéz, Elena Sors, Eli Ochoa, Marilu Gidi, Marilu Magino; Karina Galviz, Sabrina López, Suset Valdez and Susana Castro.
The chefs from Meatallica & Friends will also be present: Ángel Betancourt, Carlos Valdez, Edgar Palau, Elihu Sepulveda, Javier Plasencia, Poncho Cadena and Santiago Plasencia
• November 4th
On the big day of Ofrenda by Inferno Fest, diners will enjoy presentations by 101 chefs of various nationalities in a show that brings together culture to celebrate ancestors with music and gastronomy.
The concert will demonstrate that it is not only about delicious barbecues at the hands of grill experts, as musical shows are also part of the attraction of Ofrenda by Inferno Fest. This year, the Los Cabos Polyphonic Choir will perform; the groups Sundays, Luz y Fuerza del Centro, Velázquez and two surprise talents that will be revealed until the moment of the celebration that is expected to receive 4,000 diners.
• November 5th
To conclude, you will have a relaxing day at the pool with music and food.
The cost of the ticket is $3,500 MXN, of which $1000 MXN will be donated to various causes. During the last week before the event, the cost will increase to $4,500 MXN. To purchase tickets, contact the organizing committee at Ofrenda by Inferno Fest.
Source: Chilango.com