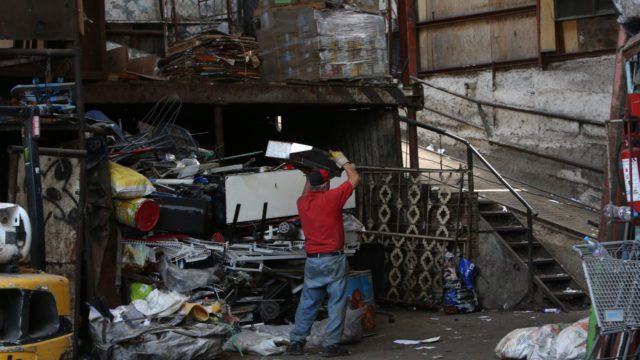 The National Confederation of Metals and Recyclers Industrialists (Conimer) warned this Monday about an initiative that prohibits pickers (people who work collecting waste) in Baja California Sur, a state in the northwest of the country, which would affect at least 25,000 workers.
"Our stance is the same stance we have against all the laws that are harming the sector, that are misleading, that are the product of corruption, petty economic interests, and that do nothing for the environment," said Francisco Uriostegui. , president of Conimer, in an interview with Efe .
The business leader referred to the initiative for the Comprehensive Solid Waste Management Law that was proposed last month in the Congress of Baja California Sur, which would impact the entire recycling chain, from the collectors and recyclers of plastics to the owners. of small businesses.
The legislation would prohibit in its article 45 "sweeping (collecting) urban solid waste or special handling" that is in the "public highway".
In addition, it would force waste generators to deliver them to the public cleaning service, which discourages, according to Conimer, users from taking their recycling products to companies that are dedicated to this process.
The law has also been criticized because it makes companies responsible for the destination of their product packaging and implements solid waste management measures that small businesses would have to pay for.
The new regulations would particularly affect scavengers, a vulnerable population, Uriostegui denounced.
"We are all going to be affected in Baja California Sur, but those who are going to be most affected are the primary starting link, and they are single mothers, older adults, young people, and children, who had no other alternative but to eat from the garbage. The Government does not give them anything and what little they have they want to take away, "she asserted.
The industrial leader accused the ruling party of promoting similar initiatives in other states and at the national level, which puts at risk nearly 6 million people who work in the industry.
"The nature of our work, nothing more than what we do to help our families, is to be friendlier to the environment because we separate, from there we eat, from there we generate sources of employment and wealth, we dignify the image of Mexico, and the politicians already saw it as a market niche for them," he said.
He affirmed that "these are not the appropriate measures" because they respond to "an economic interest" of the politicians who promote the changes.
For this reason, he suggested that "the entire production chain of the recycling industry continue as it is."
"With a comprehensive project, that is inclusive from the primary link and that allows the entire link to continue operating, that gives us the opportunity to regulate ourselves, regularize ourselves so that we generate more sources of employment," he requested.