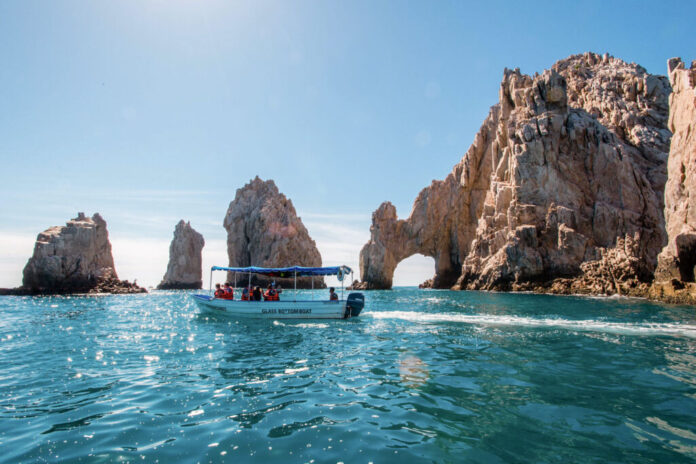 The vibrant resort town of Cabo San Lucas, which is located on the southernmost point of Baja
California is a beach lover's paradise. Sail around the coast in quest of hidden coves or dive into the
tempting blue waters to look for tropical fish.

Foodies may tuck into mouthwatering Mexican fare on a gourmet tour, while adventurous visitors love
exploring the deserts and rugged gorges.

It can be challenging to know where to begin with all the exciting things to do in Cabo San Lucas.
Fortunately, we've done the legwork for you with this comprehensive list of events and attractions,
ensuring that you don't miss a thing.

Still baffled as to what to do in Cabo San Lucas? Learn more about the top tourist attractions and things
to do in Cabo San Lucas.

Watching whales

One of the most unique things to do in Cabo San Lucas is to go on a whale-watching cruise. You may join
a whale watching excursion right out of Cabo San Lucas, which is one of the best locations in this region
of the world to get up up and personal with a powerful humpback whale.

Although it typically lasts from December to April each year, the optimum time to visit Mexico to see
whales is as early as November.

Your chances of seeing one of these spectacular creatures are very high because the waters surrounding
Cabo are known to be a breeding hotspot and a resting place for migratory whales.

We had the good fortune to see a group of four whales playing together and repeatedly jumping in and
out of the water. One of the most amazing things to do in Cabo San Lucas is to see these whales in the
wild.

Settle in for a seat aboard a Cabo Adventure whale-watching safari. These people can locate whales
using the sounds and vibrations of the ocean for an adult starting at $89 USD.

You will get drenched since the boats are so small to prevent disturbing the whales; not for the faint of
heart! Additionally included in the day are round-trip transportation from your accommodation, small
snacks, and bottled water all day. You won't want to miss this tour in Cabo San Lucas.

You can reserve a catamaran tour to watch the whales instead if you have a larger budget or prefer a
more opulent experience.

Couples Beach

Along Land's End, Lover's Beach and Divorce Beach are connected on separate little islands.
Lover's Beach is a gorgeously peaceful body of water with a bay view that is ideal for swimming and
trying out water sports.

Divorce Beach on the other side of the island has choppy, tumultuous waves, and swimming there is not
recommended owing to the risky circumstances. Two beaches with names that are quite appropriate.
The warm water of the Sea of Cortez can be enjoyed at Lover's Beach by taking a dip. It's a good idea to
arrive early because the beach can become very crowded and hectic in the middle of the day.

For a nominal cost (about $10 round trip), many fisherman and boat owners will provide you a return
trip over to Lover's Beach. Ensure that you agree on a time for them to take you up.

Observe the Sunset

There is nothing more enjoyable than watching a sunset while sipping a beverage with your bare feet in
the sand. I especially enjoy going to coastal bars with sand floors and no dress code.

In Cabo San Lucas, there are a wide variety of bars and eateries that line the beach and provide you with
a stunning view of the sunset. Choose a smaller restaurant for its pleasant personnel and lightning-fast
service to avoid the throng.

One of the most well-liked beachside restaurants, Mangos on the Beach is well-known for its chaos and
party vibe. Instead, we made the decision to miss the celebration and head over to Omega Sports Bar,
where everyone seats outside, for a blue cocktail.

Sand covers the floor of this establishment, and the kind staff was gracious enough to provide us with
colorful blankets to keep warm after the sun set and the temperature dropped a bit.

At Omega, a two-person supper for two only cost 500 pesos (less than $25 USD), including drinks. One
of the nicest things to do in Cabo San Lucas is unquestionably watching the sunset while drinking a
martini.