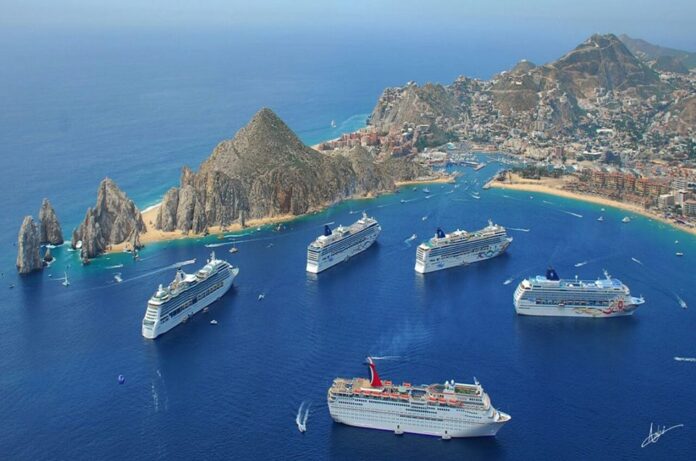 The Mexican Association of Tourist Cruises announced that they must analyze with the state government the proposal to collect a new tax.
In the last visit of the governor of Baja California Sur, Víctor Manuel Castro Cosío, to the municipality of Los Cabos, he confirmed the intention to collect taxes from Cruise lines that arrive at the state's tourist ports. The main argument mentioned by the state executive is to be able to raise more income to improve the conditions of the marinas and docks in the state.
The Mexican Cruise Association (AMC) in an exclusive interview for CPS News, commented through its president, Arturo Musi Ganem, that the proposal should be analyzed between state authorities and cruise companies. He explained that it is not the first time that a tourist port seeks to charge taxes on cruise ships; He added that it is difficult for this initiative to succeed as the federal authorities charge port fees to each cruise passenger who arrives in our country.
"We should sit down and analyze it, hopefully we will be invited to share our points of view. They wanted to do it for a long time, not in Baja California Sur, but in other ports. After several talks, comments and seeing the position of one and the other, agreements were reached that the action was more negative than positive. The ships already pay a fee per person, all passengers pay a fee to the federal authority; It is already a tax that has been in place for a long time."
According to the shipping companies, another of the justifications for which they want to tax cruise ships is because the state government argues that part of the collection of this tax will be used to promote the destinations.
Musi Gamen explained that the cruises do not require budgets from the promotion trusts, they help promote each of the tourist routes they offer for free.
"The other justification that they mention is that it is for promotion, since the cruise ships have never requested or used a penny from promotional organizations such as trusts, they are not used for cruises. Cruise companies put money out of their pockets to promote the destinations where they arrive".
From January to October 2022, the Ministry of Tourism (Sectur) of the Government of Mexico announced that a total of 2,041 cruise ships with 5,149,000 passengers arrived in our country.
In the case of Cabo San Lucas, it is the fifth port with the most arrivals of cruise ships, registering the arrival of 164 vessels with 356,641 cruise passengers.
Source: Tribuna de los Cabos