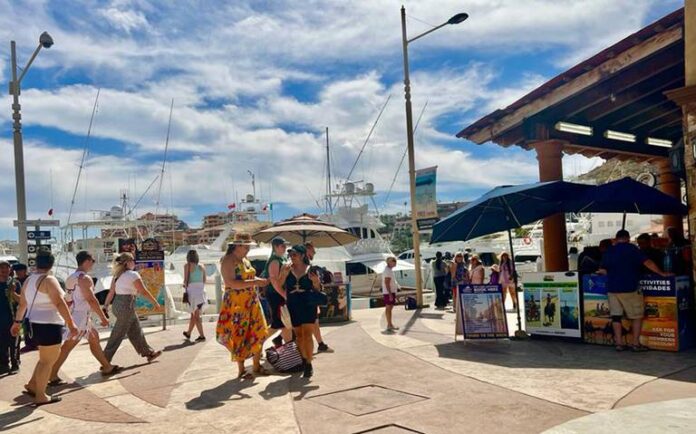 They seek to attract more international tourism to the destination; Colombia is one of the countries of interest.
Los Cabos received 7,863 Colombian tourists during 2022, which means 205% more than in 2021, according to IATA (International Air Transport Association) for its acronym in English.
These figures show that Colombian tourism ranked fourth in arrivals of foreign visitors by nationality to Los Cabos during 2022, below Canada, Mexico and the United States.
The Los Cabos Tourism Trust (FITURCA) will meet with wholesalers, airlines, tour operators and the media during the ANATO 2023 Tourism Showcase to be held from February 22 to 25, this is with the aim of strengthening alliances to position and promote the exclusive tourist offer of Los Cabos in Colombia.
Participation in ANATO 2023 is the first of several promotional actions established in Colombia this year, with the aim of encouraging the visit of the Colombian and South American market to Los Cabos. The planned work with industry partners is a fundamental part of this positioning strategy, which on this occasion includes more than 45 meetings with wholesalers, travel agents in the luxury segment and airline representatives, among others.
"Colombia is a country very close to Mexico that has shown significant growth in the tourism segment in recent years. In the case of Los Cabos, derived from the significant increase in visitors we received during 2022, we see potential to generate new connectivity options between both markets. With the marketing and promotion strategies that we are promoting, we will be able to consolidate the presence of the destination, to continue attracting more and more tourists from Colombia." mentioned Rodrigo Esponda, general director of FITURCA.
FITURCA has prepared a robust work agenda focused on individual meetings with the main wholesalers in the Colombian market such as: Aviatur, Fuerza Delta/Chapinero Viajes, Viajes Pelícano, among others; in addition to holding meetings with the media and airlines, among which Copa Airlines and Viva Aerobus stand out. It is also planned to carry out training for travel agents in the luxury segment where the exclusive offer of the destination, air connectivity and the opening of new hotel complexes will be presented. Finally, Los Cabos will host an event for 20 industry and media personalities.
ANATO is the most important tourist event in Colombia, which every year brings together thousands of professionals from the industry. This 2023 it is expected to receive more than 27 thousand attendees from 20 countries and 1,000 exhibitors at the International Business and Exhibition Center of Bogotá.
Colombia is an important market in the South American region that has positioned itself among the main source markets for Mexico, and now, for Los Cabos. In 2022, the destination received 7,863 tourists from the country compared to the 2,582 visitors who arrived in 2021, which represents a 205% growth.
Source: El Sudcaliforniano