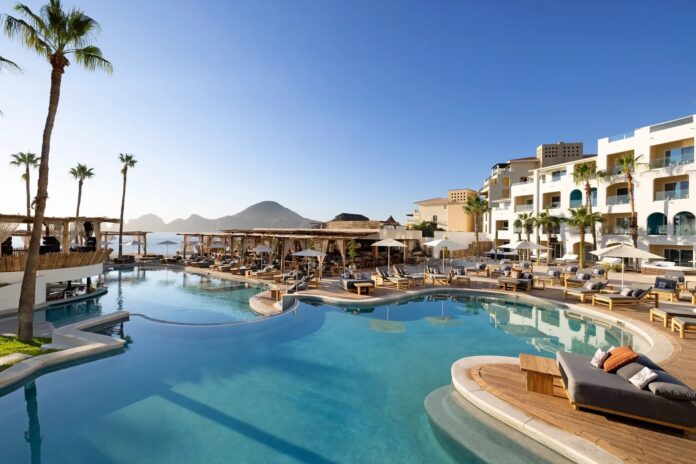 Los Cabos is having a spectacular moment. The art scene is booming, the restaurants are some of the most diverse and exquisite, and visitors can have unique experiences. Are you thinking of a memorable vacation?
With desert landscapes, corners surrounded by luxury, and one of the few swimmable beaches in the destination, ME Cabo, located at the southern tip of the Baja California Sur peninsula, is one of the most beautiful places in the destination. Right on our doorstep and as an ally for a great break, there's never been a better time to stay here.
The decor at ME Cabo is inspired by sophisticated elegance with a creative flair, a touch of local culture, and has a distinctive Los Cabos vibe: recently renovated and surrounded by special touches to bring out the best in each stay.
As a dream destination, the days spent here are according to the wishes of each one. And it is not for less, the 169 rooms at ME Cabo offer all the comforts and details imaginable. Some of the rooms feature an elegantly furnished private balcony or terrace and garden or ocean views—both of which you can reserve—perfect for an unforgettable Cabo getaway.
Hard to resist the call of ME Cabo. As soon as we arrive, destiny plunges us into a warm and fascinating world like no other. Luxury? Yes, Wellness? Also, exquisite flavors? Sure, and in an extraordinary way. In addition to being a great place to stay, this is a great spot to enjoy a hearty, delicious meal.
At the table, and creating a unique gastronomic experience together with Grupo Rosa Negra, the hotel has several corners to enjoy sensory experiences of the highest level. Whether it's a poolside beach club set to the latest in music and live performances, or upscale Mediterranean cuisine with Mexican influences and bars offering signature tequila and mezcal cocktails, each venue's offering captures the meaning of a unique vacation.
Faced with this sensitive character, the hotel also shines with its anthology of happenings, ME Cabo, which proposes a series of collaborations with the most avant-garde creative minds from around the world and exclusive brands to give its guests something extra. Through these events and activations, we can discover the most innovative cultural trends, always aligned with the Los Cabos lifestyle.
An example of this was their most recent event 'Surf On', which took place from May 19 to 21 at the hands of the sports brand Volcom, where a whole Californian vibe was experienced in the hotel, and which they were able to share with invited surfers and athletes: Mauricio Otero, Leila Takaeda and Jhonny Corzo. In addition, in June they have prepared a happening that will celebrate Pride by the hand of a surprise designer.
Source: Vogue