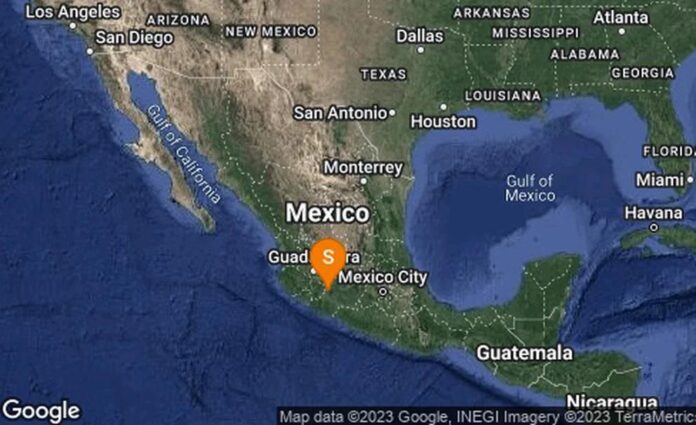 The National Seismological Department shared its evening seismicity report corresponding to this July 9, which includes all earthquakes of magnitude less than 4.0 updated until 5:00 p.m.
The earthquakes of greatest magnitude were those that occurred in Chiapas and Baja California Sur, it should be noted that these movements were recorded consecutively, which alarmed the specialists, but there was no greater danger.
Another earthquake that occurred this afternoon was in Pinotepa Nacional. Oaxaca at 14:29:44 central hours, it was of magnitude 3.3 at 19 km to the northwest.
Tremor in Michoacan
An earthquake of magnitude 4.1 originated 12 kilometers southwest of Peribán, Michoacán at 7:21:40 p.m. this Sunday.
The telluric movement had a latitude of 19.46 and a longitude of -102.52 with a depth of one kilometer. However, its intensity did not warrant the activation of the seismic alert.
Minutes after the earthquake registered in Baja California Sur, at 09:41, another movement shook the state of Chiapas.
The tremor was reported to be of magnitude 4.0 and originated 23 kilometers northwest of the municipality of Cintalapa.
A new movement was detected at 09:26 in Baja California Sur, reported the SSN.
According to the report, it was a magnitude 4.2 earthquake 65 kilometers northeast of Santa Rosalía.
At 8:00 a.m., the National Seismological published its morning seismicity report for this July 9, which includes all movements of magnitude less than 4.0 updated until 05:00 a.m.
Below we present all the seismic activity detected during the early hours of this Sunday in at least five entities of the Republic:
Guerrero: at 01:18 a.m. a magnitude 3.0 earthquake was detected southwest of the municipality of Ometepec.
Michoacán: a magnitude 3.2 tremor was recorded at 01:47 hours northeast of Peribán.
Sonora: The municipality of Guaymas woke up with a magnitude 3.7 movement, a few minutes after 02:00 a.m.
Chiapas: At 03:18 hours an earthquake was reported from 3.7 to 49 kilometers southwest of Arriaga.
Oaxaca: at 01:51 a.m. a magnitude 2.9 earthquake was recorded 43 kilometers northeast of Pinotepa Nacional.
Hours later, two tremors were detected at the same point, in Unión Hidalgo: the first occurred at 03:38 and had a magnitude of 3.4; the second, was recorded just 20 minutes later, at 3:58 hours with an intensity of 3.5.
During the early hours of Sunday, July 9, the National Seismological Service (SSN) registered an earthquake of magnitude 3.2.
The telluric movement occurred at 01:47 a.m. 15 kilometers northeast of the municipality of Peribán, in the state of Michoacán.
According to the report, it had a depth of 12 kilometers, without reporting affectations or structural damage to nearby buildings.
Source: Infobae