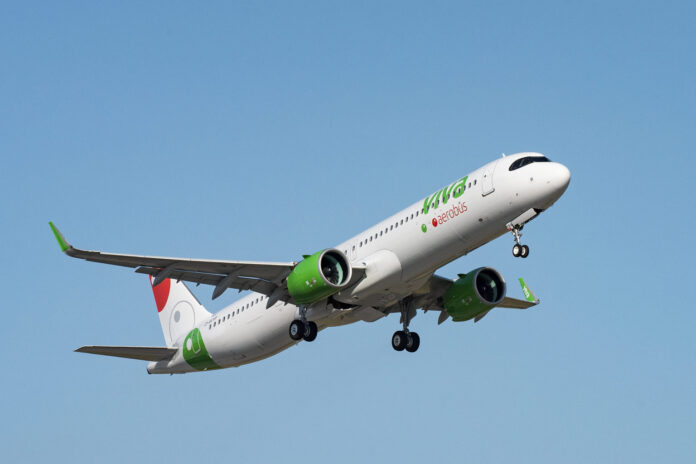 In an event held in the Los Cabos Tourist Corridor, the inauguration of three new Viva Aerobus routes was celebrated, which strengthen the air connectivity of Baja California Sur at a strategic moment, that is, before the summer vacation season. Committed to boosting local tourism, the low-cost airline began its regular services from Ciudad Juárez, Querétaro and Torreón to Los Cabos.
"Air connectivity is undoubtedly one of the best ways to measure tourist destinations, therefore, every time a new route is announced, it is cause for celebration. Thus, on behalf of the State Government, headed by Governor Víctor Castro Cosío, we express our gratitude to Viva Aerobús for its constant contribution to tourism in Baja California Sur, as well as to the business sector that makes up the tourism industry. We are convinced that, thanks to your service, more visitors will have the opportunity to live unique experiences enjoying the great natural and cultural offer that Los Cabos has, which will generate a positive impact on the local economy of the state", mentioned Maribel Collins, Secretary of Tourism and Economy of Baja California Sur.
For the convenience and comfort of passengers, Querétaro – Los Cabos offers three flights a week and the other pair of routes has two weekly frequencies. In addition, all these services are operated with the youngest fleet in Mexico, and the fourth in North America, made up of 73 Airbus A320 and A321 aircraft with an average age of only 5 years.
"Viva Aerobus is a fundamental ally in our objective of strengthening the air connectivity of Los Cabos, which is key to positioning our destination as one of the favorites nationally and internationally. We recognize the enormous market potential that exists and we are committed to maintaining the growing trend in the number of visitors. During the month of May alone, we received the visit of 121,000 tourists from the domestic market, which represents a significant increase of 14% in comparison with the year 2022", mentioned Rodrigo Esponda, director of the Los Cabos Tourism Trust (FITURCA).
"In 2022 we will receive more than 3.5 million passengers, an increase of 25% compared to 2019, that is, above pre-pandemic levels and with these new flights traffic will have a great boost. We will be delighted to receive the new Viva passengers", mentioned Francisco Villaseñor, Director of the Los Cabos International Airport.
According to Viva Aerobus, these new routes are designed to meet the growing demand for sun and beach tourism in the entity under a proposal at low prices. Thus, Viva offers travelers the possibility of saving on their transport and having more resources to take advantage of at the destination, directly benefiting the local economic benefit.
"We continue to grow in strategic enclaves for the connectivity of our country, which confirms our work as allies of the tourism sector. Now it is possible to fly to Los Cabos from many more destinations with an offer distinguished by point-to-point flights, new planes and really low prices", mentioned Walfred Castro, Communications Director of Viva Aerobus.
This 2023 has excelled the growth of Viva Aerobus in Baja California Sur, which has established itself as one of the largest airlines in the state. So far this year, Viva has already added six new ones from/to the entity, in addition to these new services, the La Paz – Mazatlán route was inaugurated over the weekend and a few months ago the operation of flights from Los Cabos to Toluca and Cancun began.
As a result, the low-cost airline already has 14 routes in the state. It connects Los Cabos with Cancun, Mexico City (AICM), Ciudad Juárez, Culiacán, Querétaro, Guadalajara, Hermosillo, Monterrey, Tijuana, Toluca and Torreón; and to La Paz with Culiacán, Guadalajara and Mazatlán.
This extensive presence in the entity is accompanied by the support of travelers. In this sense, from January to May 2023, Viva transported more than 610,000 passengers to/from La Paz and Los Cabos; This represents an increase of 62% compared to the same period in 2022.
Source: En el Aire