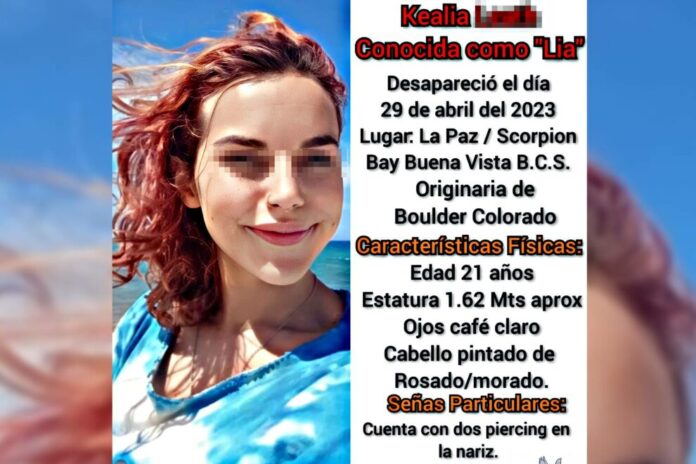 Originally from the United States, she disappeared in La Paz; Her relatives have tried to contact Kealia "N", without success
They shared an image of Kealia "N", a 21-year-old girl, because her relatives have not heard from her for 6 weeks; It is known that the last place she visited was Buena Vista.
According to the search form, the native of Boulder, Colorado, United States —also known as "Lia"— is about 1.62 meters tall, has light brown eyes, is fair-skinned, and her hair is dyed pink/ purple and with 2 perforations in the nose.
She disappeared on April 29, 2023 and her relatives have tried to communicate with her on multiple occasions, without response, but they detail that a friend of Kealia received a text message from her on June 14, although it is not clear who sent it.
"We believe that he is in danger after she went to Buena Visita, Scorpion Bay and La Paz, Mexico in March and his mother and aunt received a phone call earlier this week from who could be hcaptors demanding money," they detail.
They assure that they have had contact with the FBI, but it seems that they do not have much "interest" in helping at the moment, assure the relatives.
They assure that it is unusual that she does not communicate with her parents and that they are requesting money to be able to contact a private investigator who travels to Baja California Sur to find her.
In case of having any information call at the telephone numbers 612 140 9761 or 911.
Source: BCS Noticias