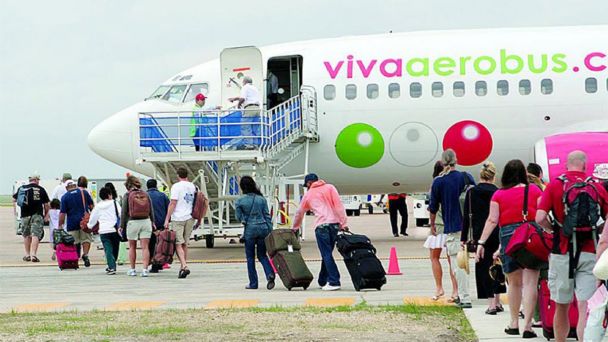 Even though the Grupo Aeroportuario del Pacífico (GAP) announced on its social networks that it would not close the Los Cabos International Airport despite the effects of "Hilary" and that its operations continued normally, hundreds of passengers were left stranded. at the air terminal due to the cancellation of four flights of the airline Viva Aerobus.
From 7:40 am in the morning, the first cancellations began to be registered, with the Los Cabos-Hermosillo flight, later the airline decided to suspend the operation of the Los Cabos-Monterrey and Los Cabos-Mexico City flights, causing the inconvenience of the passengers.
César Nuñez, a passenger affected by the cancellation of his flight, commented exclusively for CPS Noticias and Tribuna de México on the unfortunate situation he was going through; He explained that the national airline VivaAerobus did not want to be responsible for the cancellation of his trip.
"To begin with, the airlines have compensation for cancellations or delays, the compensation from VivaAerobus is the one authorized by Profeco, which indicates that if it is a delay of more than four hours or a cancellation, the person has three options: accept a general flight plus 25% compensation, accept full reimbursement plus 25% compensation, have food, lodging and airport-hotel transportation, airport hotel. All this is done through a voucher for economic compensation, the voucher has to be delivered immediately, but they are not delivering it".
Jesús Moreno, another of the passengers affected by the airline's cancellations, commented that the company only gave them the option to change their itinerary for Sunday, August 20.
The affected young man commented in an interview that this situation would affect his trip, since he had hotel reservations in another destination, which causes economic losses.
"VivaAerobus is informing us that all the flights of the airline have been cancelled, but the other airline Volaris has not yet canceled its flights, they only say they are delayed. They inform us that they would change our flight for tomorrow, but this until 4:00 in the afternoon, already checking the application, the routes exist and unfortunately this is causing us to lose two days of our vacation; adding the expenses that we already made for lodging and renting a car."
Until the closing of this edition, the Los Cabos International Airport, which is managed by the Grupo Aeroportuario del Pacífico, has not released more details about cancellations by other airlines.
  Source: Tribuna de Mexico