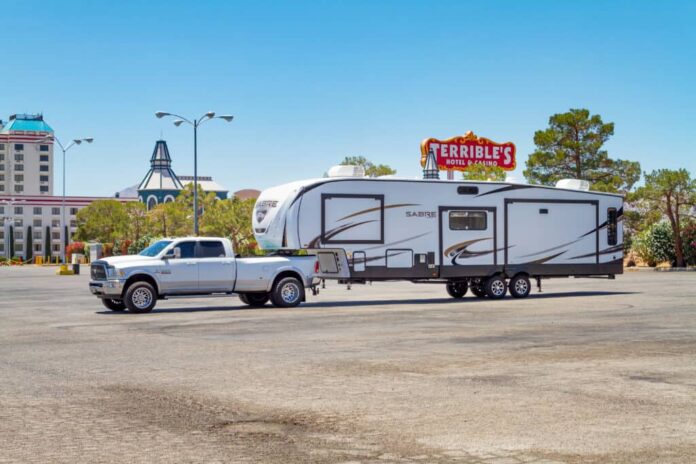 Have you ever wondered what stores allow overnight RV parking? There are many empty parking lots all over America after the stores close. So why don't RVers take advantage of them all for overnight parking?
Well, some stores allow overnight RV parking while others don't. It all depends on city ordinances, store policies, and manager preferences.
We decided to help our RVing community by creating a list of stores that do allow overnight RV parking so that when RVers are traveling and need a place to get some sleep, they can refer here.
Let's get started!
Can You Park Your RV Overnight Anywhere?
Sadly, no, you cannot park your RV overnight anywhere you want. While many stores have huge parking lots that would give plenty of space for overnight parking, it's not always legal or allowed.
Some cities and towns have strict local ordinances that do not allow overnight RV parking or sleeping in any vehicle in any parking lot, publicly or privately owned. You don't want to have the dreaded knock on your door in the middle of the night telling you to move on.
Another reason you can't park your RV overnight in store parking lots is because of store policy. There may be insurance liability reasons, or no security presence, and the store does not want to take a chance with someone getting hurt on their property (or someone vandalizing/breaking in/damaging their property).
The last reason why some stores may not allow overnight RV parking is because managers often have the last word about whether it's ok or not at each specific store. Always call ahead first to see if it's allowed before settling in. Even if the internet says it's okay, the manager on duty might have an opposing rule.
What Stores Allow Overnight RV Parking?
Even though many stores do not allow overnight RV parking, there are plenty that do. Here is a list of stores that our members have used (and we confirmed) that give the ok for overnight parking. Be sure to read each description for details.
1. Walmart
Walmart has been an overnight RV parking go-to for many RVers and is found all over the USA. However, over the last few years, there have been more signs stating "No Overnight Parking" in some locations. Call ahead to confirm that overnight RV parking is allowed and where the manager of the store would prefer you park.
2. Cracker Barrel
This restaurant and country store has allowed overnight RV parking for years. They have specific spaces for large rigs and typically have a quieter parking area. While there, be sure to grab a meal!
3. Cabela's and Bass Pro Shops
These outdoor recreation stores specialize in hunting, fishing, camping, and more. Cabela's parking lots typically have spaces set aside for overnight RV parking and some even have dump stations and potable water. When Bass Pro Shops acquired Cabela's they allowed overnight RV parking, too. Always check with the manager before staying.
4. Anytime Fitness, 24 Hour Fitness, and Planet Fitness
Although not specifically stated in their policies that overnight parking is allowed, these are 24-hour/7 days-a-week gyms and because of that parking is allowed during those hours, too. A membership is required to visit these gyms. Go in, work out, take a shower, then get a good night's sleep!
5. Camping World
This RV accessory, sales, and service business will often allow RVers to stay overnight. Be sure to check with local stores and heed any "No Overnight Parking" signs if you see them in the parking lot.
6. Home Depot and Lowe's
Big box hardware stores like these have allowed RVers to stay overnight in many locations. However, it's best to check with the manager before deciding on one of these.
7. Costco
Costco parking lots are typically large enough to accommodate RVs of all sizes and allow overnight parking. Do some shopping or eat at their snack bar. Because many Costco stores also have fuel stations, grab some gas or diesel before you leave the next day. Again, be sure to check with the manager for any reason why you might not be able to stay overnight.
8. Sam's Club
Like Costco, this wholesale club has huge parking lots where RVs can park. Since they are affiliated with Walmart, they allow overnight RV parking. Be sure to check with the manager to see if staying overnight would be breaking any city laws or company policies.
9. Kmart and Sears
Did you know that Kmart has historically been friendly to overnight RV parking? Sadly, there are very few stores left, but they do allow RVers to get some sleep overnight when needed. Sears is in the same boat, with fewer stores than there used to be. Check with the store manager to see if they allow overnight RV parking and obey posted signs.
10. Pilot/Flying J and Love's Truck Stops
Truck stops technically do allow RVers to park overnight, but we don't always recommend it. Truck stops exist for long-haul truckers to get groceries, take breaks, naps, and showers, and sleep overnight. Truckers have very specific legal time limits on how long they can drive, so truck stops are an essential part of their workday routine. Because of this, we don't recommend taking up the limited parking spaces reserved for long-haul truckers. If you've ever seen truckers parked on the on- and off-ramps of a highway overnight, over-crowded truck stops are often to blame.
Some truck stops have RV-specific spots, and these are perfectly acceptable to use. Some may even have hookups and RV dump stations. However, taking up a parking space in the semi-truck parking lot is generally not recommended. If you can find another option, please move on and save the truck parking for the truckers who truly need them.
11. Mall parking lots
Mall parking lots are huge! They are very enticing as RVers drive by wondering if they allow overnight parking. Fortunately, many malls do allow overnight RV parking. Never assume that it's ok to stay overnight, though. Always look for posted signs and check in with mall security or at the management office to see if it's allowed.
Disclaimer: Free overnight RV parking is not always allowed at every single one of the stores listed. Rules and regulations vary from state to state, city to city, and county to county. Even if the company allows it, some local jurisdictions prohibit overnight RV parking. Always check and ask permission ahead of time, and never stay overnight in an area with posted signs prohibiting overnight parking. Be responsible, respectful, and remember the RVer's Good Neighbor Policy!
Source: escapees.com
Mexico Daily Post