The pregnant woman was rescued with her partner, when they were taking refuge from the effects of the weather in a natural area of ​​San Juanico.
Ciudad Constitución / Baja California Sur.- On the afternoon of July 21, the foreign tourist couple reported as missing was found,  when they were traveling on the highway from Ciudad Constitución to San Juanico, in the municipality of Comondú.
After an extensive search operation, officials of Protection Civil State, confirmed the discovery of a man identified as Ituri, of 44, originally from  Oregon, United States,  and a woman named Celina Thalía, 33, with a state of gestation 8 months and 3 weeks, who presented severe dehydration.
They were found in the vicinity of a beach located on the boundaries of the fishing area of San Juanico.
Although the reasons for the disappearance were not revealed, the American couple was taken by ambulance to the General Hospital of Ciudad Constitución, to receive immediate medical attention .
According to the police report , the couple took the road on the morning of July 21 to San Juanico , however, nothing was heard from them again.
Public Security elements assigned to the San Juanico community were alerted to the mysterious disappearance and immediately set up a permanent guard in the area of ​​access to the tourist entity, as well as in urban areas and beaches in the region.
Agents from Preventive Police and Municipal Transit of Comondu, the special brigade of Civil Protection, and 911 Rescue Squad, started with location protocols of the two people missing in sections of highway and in the vicinity of the town, with the aim of finding safe and sound.
Hours later, they discovered the American travelers in the natural area of the community.
Both were discovered sitting under mangroves, protecting themselves from the hot sun and suffering from dehydration.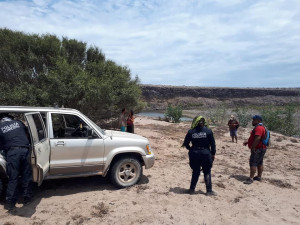 They managed to be rescued and taken to the public clinic of the municipal seat for their recovery.
Source: metropolimx.com