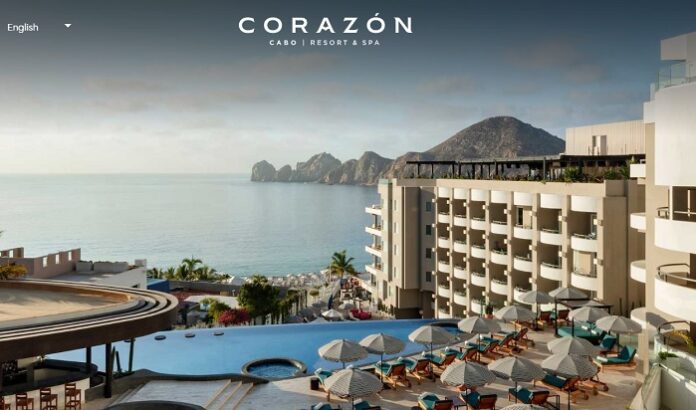 The recently built Corazón tower at the Corazón Cabo Resort & Spa brings affordable luxury and upscale Mexican fiesta vibes to the very center of Cabo San Lucas, located at the tip of Baja California, a direct, non-stop flight from New York City, Dallas, Los Angeles, and other major US destinations. Neither Cabo nor Corazón is an LGBTQ hot spot, but they're both incredibly comfortable for and welcoming to LGBTQ folks, and particularly popular with gay couples.
Amenities
The resort offers sufficient amenities to keep you entertained and pampered during a long weekend stay. During this trip, we only left the resort once to visit a remote beach (see below). After months of hard work, it was exactly what we needed.
If you can tear yourself from your private balcony hot tub, you'll want to head to the resort's Beach Club to enjoy Playa El Medano. Book a plush cabana or side-by-side chaise lounges, order from the lunch and bar menu, and enjoy the constant stream of city-sanctioned hawkers of massage and mariachi services, surprisingly well-crafted souvenirs, cheesy hats, and bizarrely worded sashes ("Eat my booty") destined for boozy bachelorette parties.
We ordered room service a shameful number of times — it's incredibly prompt — but we also enjoyed the tasty treats at the resort's numerous à la carte restaurant options, including Aleta, Rooftop 360, and Baja Brewery. Seafood is a specialty, as is Mexican cuisine, naturally, but worry not: You can always order a hamburger and other familiar dishes. Rooftop 360 is the highest open-air dining/cocktail spot in town and offers breathtaking views all around. It's sublime at sunset. The brewery is breezy, laid back, and fun, with live music and streaming sports stations. Book a treatment at Sparitual, the onsite spa. It's pricey, but the amenities (sauna, steam room, hot tub) and therapists are top-notch. An 80-minute massage ($180) left me pleasantly sore and ready for bed. Request Edgar or Brandon.
These amenities are important, but the best one is the staff which is well trained and constantly working to keep the resort clean and you happy. When you visit, ask for Michel (pronounced "mitch-el"), the experience manager. He takes care of everyone incredibly well and keeps a special eye out for LGBTQ guests.
Source.- Corazón Cabo Resort & Spa