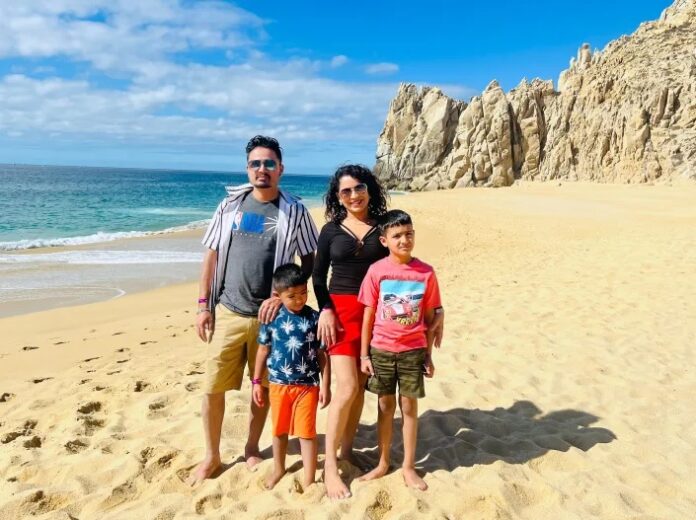 The trip was supposed to be a dream holiday in Cabo for the Neupanes.
Bal Krishna Neupane and his wife, Ruka Dahal Neupane, had saved up for a trip to Baja California Sur in Mexico to escape the Ohio winter. Both 32, the couple had grown up in a refugee camp in Nepal together and were living in Jefferson Township, where they were raising their two sons, Arpan, 3, and Aarav, 6.
The trip was filled with sunshine, beaches, and boating until it turned into a nightmare the evening before they were set to leave. Just before sunset on Feb. 24, guests found Ruka and Aarav dead in a swimming pool in the center of the resort.
---
Although there is no evidence of foul play and Mexican authorities ruled the deaths accidental drownings, the father-husband, and his family are still searching for answers about how the mother and son — who could not swim — ended up in the deep end of a swimming pool since there were no direct witnesses. Some of the guests who came to the family's aid questioned whether more could have been done to help save the guests.
The general manager of the Villa del Palmar resort where the family was staying, as well as the resort's media contact, did not respond to The Dispatch's requests for comment.
"It seems like an accident — maybe they didn't realize how deep it was," Bal Krishna told The Dispatch in Nepali last week in his home in Jefferson Township, after the completion of the family's Hindu funeral rites.
"Because we have a small community, everybody knows about this. The whole community is shattered and shocked by this accidental death of this young child and his mother," said Bhuwan Pyakurel, a member of the Reynoldsburg City Council who is Bhutanese Nepali.
There are around 30,000 Bhutanese Nepalis living in Greater Columbus, according to the nonprofit Bhutanese Community of Central Ohio.
Bal Krishna said that he and his wife, who worked together at Victoria's Secret distribution center in Reynoldsburg, had decided to go to Baja California Sur for the beaches and art scene.
Villa del Palmar, where they stayed, is a five-star, 460-room resort in the town of Cabo San Lucas, with stunning views of the Sea of Cortez, according to its website.
Bal Krishna said that on their last evening, the whole family was playing in a hot tub when the younger son, Arpan, needed to go to the bathroom. Bal Krishna took him to use the hotel bathroom inside, and when they returned, they went to cool off in the shallow end of one of the hotel's pools.
But soon they heard screams and saw other guests diving into another pool to retrieve two bodies — which Bal Krishna soon recognized as Ruka and Aarav. A crowd later gathered, and American guests from Chicago, Washington, and Georgia began performing CPR, while hotel staff retrieved AED defibrillator machines.
According to one other guest's Facebook post, an ambulance was called around 6:25 p.m. — just minutes after sunset.
Blanca Werner, 52, a guest from Plainfield, Illinois, said she sat with Bal Krishna, who was visibly shaken and held him.
"He's like, 'How did this happen?' We couldn't figure out what happened," she said.
The family later asked the hotel for security camera footage from the pool from that evening, but the hotel told them they did not catch any of it on their cameras, according to Narayan Neupane, 32, a cousin of Bal Krishna's who traveled to Mexico to comfort and assists him the next day.
Experts say it can be difficult to recognize someone who is drowning since they are often unable to wave or call out for help.
James Werner, 55, a retired firefighter and paramedic who is Blanca's husband, said he performed CPR on the mother, who was not breathing and had no pulse when she was pulled out of the pool.
"We were performing CPR for over half an hour before the ambulance got there … And that's like a major metropolitan area," he said.
Werner said that the hotel's AED machine was not working, either, and noted that the hotel employs no lifeguards, although it does post "swim at your own risk" signs by the beach.
"There was no oxygen, which you would think would be a standard thing," he said, adding that there was "minimal equipment and very little assistance from the staff."
Click here to read the complete original article in the Columbus Dispatch
Source: Columbus Dispatch
---