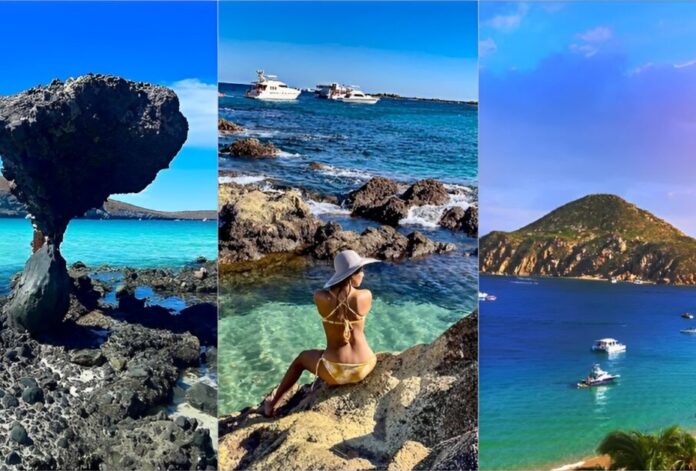 It's time to celebrate in Baja California Sur! The state has obtained incredible recognition in the prestigious Tripadvisor Travelers' Choice – Best of the Best awards, as three of its amazing beaches have positioned themselves in the top 10 of the coveted top 10 beaches in the Republic of Mexico.
In third place is the dazzling Balandra Beach in La Paz. This coastal paradise captivates with its turquoise waters and soft sand. It is a perfect place to enjoy moments of peace and relaxation. Travelers are wowed by its stunning views and peaceful atmosphere.
Moving up the list, in sixth place is the fascinating Playa Chileno in Cabo San Lucas. Its coral reefs are a true treasure for lovers of diving and snorkeling, offering the opportunity to explore an underwater world full of life and color.
And in tenth place, we find the emblematic Playa El Médano, also located in Cabo San Lucas. This beach perfectly combines scenery with a lively social scene. Here, visitors can enjoy a wide range of exciting water activities during the day, and immerse themselves in a vibrant nightlife in the late afternoon.
These Travellers' Choice – Best of the Best awards are given to destinations that have received exceptional praise and feedback from the travel community for an entire year. Only 1% of Tripadvisor profiles, among the existing 8 million, have the honor of receiving this recognition. Therefore, this achievement further highlights the distinction and level of excellence that these beaches in Baja California Sur have achieved.
This is how the Top 10 of Travelers' Choice – The Best of the Best in beaches was:
1.- North Beach – Isla Mujeres
2.- La Ropa Beach. Zihuatanejo
3.- Balandra Beach – La Paz
4.- El Cielo Beach – Cozumel
5.- La Entrega Beach – La Crucecita
6.- El Chileno Beach – Los Cabos
7.- Nuevo Vallarta Beach – Nuevo Vallarta
8.- Puerto Morelos Beach – Puerto Morelos
9.- Playa Delfines – Cancun
10.- El Medano Beach – Los Cabos
Source: Tribuna de Mexico