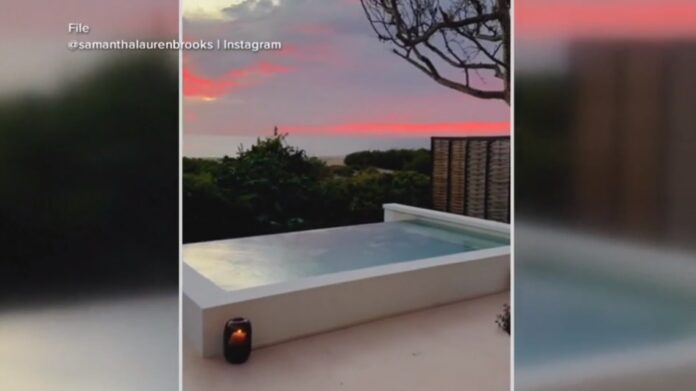 When responding to the scene where two tourists from Newport Beach were found dead in their luxury hotel room in Mexico this week, paramedics said that they began to feel "intoxication symptoms such as hypoxia and a racing heartbeat."
The paramedics said they decided to leave because they felt the scene was unsafe. They then took themselves to a local hospital for treatment, they told ABC News.
The victims had no vital signs when the paramedics entered the room at Hyatt's Rancho Pescadero on Mexico's Baja California peninsula on Tuesday night at around 9:10 p.m. local time. The lifeless body of a woman was found on the bed, while the lifeless body of a man was found in the fetal position on the floor of the shower, which was still on when the paramedics arrived, they said.
The State Attorney General's Office of Baja California Sur later identified the victims as 28-year-old Abby Lutz and 41-year-old John Heathco, both from Orange County.
Lutz "had been messaging her dad and told him she was feeling sick," her stepmother, Racquel Lutz, said in an ABC News interview. She "went to the hospital and stayed one night, on IV, and felt so much better."
Abby Lutz texted her father on Monday night, "to say goodnight, love you," her stepmother said. "And then we hadn't heard from her again."
The couple had been dead for about 10 or 11 hours when they were found and there were no signs of violence or an altercation. The cause of death was "intoxication by a substance to be determined," the attorney general's office said in a statement on Thursday, June 15th.
The family of Abby Lutz, 28, say they were shocked to learn Abby and John Heathco's bodies were found in their room at the Rancho Pescadero resort in Baja on Tuesday night.
Gabby Slate, Abby's stepsister, said when the couple initially felt sick they thought it was food poisoning. But after their deaths, she said, the family was given indications that there may have been improper venting at the resort and there could have been carbon-monoxide poisoning.
Rancho Pescadero is a Hyatt property and boutique beachfront hotel in the scenic village of El Pescadero, nestled between the Pacific Ocean and the foothills of the Sierra de Laguna mountain range.
The hotel's general manager, Henar Gil, said in a statement on Thursday that he and his staff "do not believe that the cause of death was related to any issues with the hotel's infrastructure or facilities, including carbon monoxide or a gas of any kind."
"Beyond anything else, on behalf of the entire Rancho Pescadero team, we are deeply affected and sorry for the loss the families and loved ones of Abby and John are enduring. This is a shocking and unimaginable situation, and we are committed to supporting and treating them with understanding and compassion," Gil added. "We will continue to cooperate with authorities as they look into the cause of this terrible tragedy."
In lieu of flowers, the Lutz family asked for donations to a GoFundMe page to help with transportation and funeral costs.
Lutz's family said they "are shocked and saddened to hear about the passing of our beloved Abby."
"We are deeply saddened by the loss of Abby, but grateful for the family and friends who are keeping us in their thoughts and prayers during this difficult time," the family said in a statement released Friday.
"Abby was a light to everyone around her. She always had a smile on her face, and her laugh could brighten a room. She had a way of making everyone feel special. We will all miss Abby dearly.
"It is our hope that more information will come to light to explain what happened to Abby, and why. This information will help us gain closure and may prevent this type of incident from happening in the future. We don't wish for anyone else to go through this tragedy."
Source: ABC News