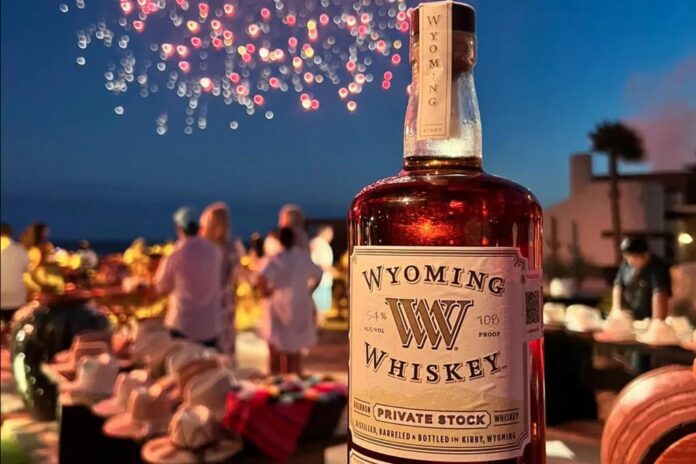 Let's face it, if there's anything quintessentially American besides hamburgers and Hollywood, it's Los Cabos. Well, perhaps we exaggerate a bit, but this Mexican destination is so favored by North American tourists that a July 4th there is lived as if it were September 15th. And it was precisely in the framework of the celebration of the independence of the neighboring country to the north that Wyoming Whiskey presented a special edition bourbon (nothing says the United States like this drink) exclusively for the beach paradise of Baja California Sur.
Wyoming Whiskey – Private Stock Cabo is a handcrafted, hand-bottled bourbon that has been aged for at least 5 years in new white oak barrels, carefully selected to offer lovers of this spirit a memorable experience.
We are talking about an extremely limited edition of which only 150 bottles are available for sale exclusively in Los Cabos, specifically at The Cellar – Fine Wine & Spirits boutique, located in San José del Cabo.
Wyoming Whiskey is widely recognized for its handcrafted manufacturing process that takes place entirely in Kirby, Wyoming, using only the highest quality, locally sourced inputs, from the grains: corn, wheat, rye and barley, to water from the Big Horn Basin River, explained Oscar Ardid, On Premise Manager at Edrington Mexico.
He highlighted that the exclusive edition for Cabos speaks of the importance of the Mexican market for Edrington, the company to which this brand belongs, and the taste that consumers in the region have shown for bourbon.
He said the Wyoming Whiskey – Private Stock Cabo presents an exceptional flavor bourbon profile with velvety flavors of caramel, vanilla and subtle hints of ripe fruit, all enriched by a warm and comforting mouthfeel.
And he stressed that this special edition is part of a diverse collection consisting of high-quality individual casks that allow for the exploration of a singular style and flavor, reflecting the best of Wyoming whiskey, as hundreds of casks are sniffed and sampled by the team of the distillery to identify the ones that best represent the full range of complexity and depth of the brand, only 1 of every 100 barrels is selected from the cellars. That liquid is bottled and results in the 150 bottles that are present in Cabo today and that will surely fly away.
With barely a decade of life, Wyoming Whiskey has become the best Whiskey in the West with a wide catalog of expressions such as: Small Batch Bourbon, Double Cask Bourbon, Outryder Straight American Whiskey, Single Barrel Bourbon and Barrel Strength Bourbon, and Private Stock , among other.
 Source: Robb Report