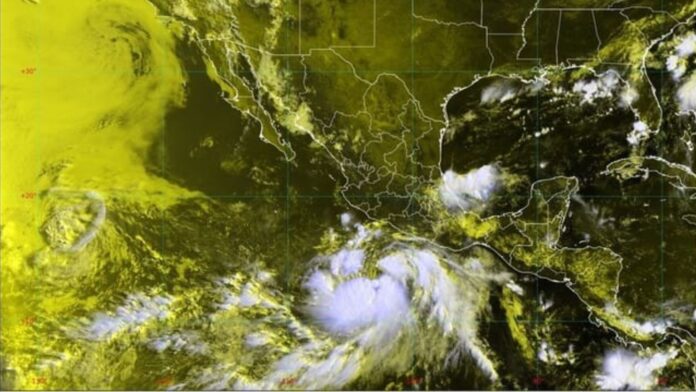 The National Weather Service expects Hilary to become a hurricane in the next few hours and reach category 3
MEXICO CITY.- Tropical storm Hilary took shape this morning in the waters of the Pacific Ocean, according to the report of the National Meteorological Service (SMN). The system is expected to continue intensifying in the coming hours, with forecasts indicating an upgrade to a category 3 hurricane.
According to SMN experts, the forecast establishes that Hilary will evolve in the next 24 hours. The storm is expected to become a category 1 hurricane tomorrow at 6:00 a.m.
This strengthening process will continue, with forecasts to reach category 2 by Friday morning and, in the course of the same day, to rise to a category 3 hurricane, which would make it a high-intensity phenomenon.
Currently, the center of the storm is located 590 kilometers south of Zihuatanejo, Guerrero, and 755 kilometers south-southeast of Manzanillo, Colima.
Hillary's reach will be felt along the Mexican Pacific coasts, with potential for very heavy to heavy rains in the southern and western regions of the country. In addition, waves of 2 to 4 meters high are expected on the coasts of Oaxaca, Guerrero, Michoacán and Colima.
The SMN issued warnings about the potential consequences of these forecast rains, including reduced visibility, increased river and stream levels, and the risk of landslides, flooding, and waterlogging in affected areas.
Hillary's trajectory
Hilary's projected course centers on her trajectory to Lázaro Cárdenas, Michoacán.
It is expected that during the morning of Thursday, the storm will become a category 1 hurricane southwest of Punta de San Telmo, in the same entity.
Subsequently, for Friday morning, its evolution to a category 2 hurricane is anticipated to the west-southwest of Perula beach, in Jalisco.
By the afternoon of the same day, around 6:00 p.m., it could rise to category 3 south-southwest of Cabo San Lucas, in Baja California Sur, maintaining this intensity until Saturday.
Forecasts indicate that by Sunday morning, Storm Hilary will decrease in intensity and downgrade to a Category 1 hurricane southwest of Punta Abreojos in Baja California Sur. Finally, it is expected that on August 21 it will become a post-tropical cyclone, ending its cycle of activity.
The authorities remain on alert for the possible impact of Hilary. It is recommended that the population follow the instructions of the authorities and stay informed through official communication channels.
  Source: Punto