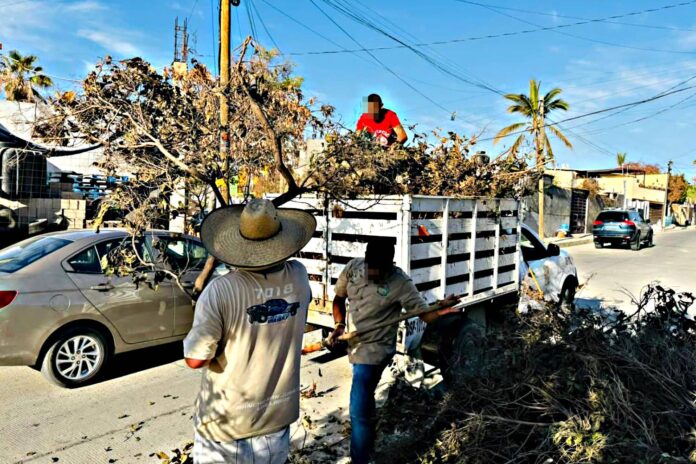 The cleaning and reconditioning of the parks in Cabo San Lucas is already more than half complete after the damage left after the hurricane
Los Cabos, Baja California Sur (BCS). The Los Cabos City Council shared that Public Services continues with the cleaning days in parks and gardens, this as part of the cleaning actions of public spaces for citizen recreation. Maintenance work has been carried out in the municipality of Los Cabos to guarantee the safety and order of users, which is at 60%.
"Well, we have made an approximate progress of 60%, you could say, we still have many branches and gadgets, we continue working and operating in different parts of Cabo San Lucas, mainly through the citizen participation committees that are the ones that are being organized, they are the ones that are being managed to clean Cabo San Lucas as soon as possible" declared delegate Raymundo Zamora Ceseña.
For his part, the head of Public Services, Leonel Leyva Luna shared that: "Continuing with the cleaning actions after the past rains, we are focusing on working in the parks, specifically what we are doing is pruning trees, painting the fences, lift branches and other debris; The idea is that these places are guarantors of the safety of the families who come to carry out some activity."
He also assured that part of the work on this occasion has taken place in the Luis Bulnes park in the Lomas del Faro neighborhood, in Cabo San Lucas. On the other hand, he insisted that the cleaning campaign will continue throughout the city, just as the tour has been carried out throughout the municipality.
"This is how we are going to continue with the other spaces so that citizens can enjoy these places in optimal conditions; Likewise, we continue with other activities aimed at cleaning, such as removing junk from the colonies," he mentioned.
Photographs of the work in parks were shared on social networks, where you can see how they remove leaves, in addition to sweeping the ground so that there are no remains of waste. You can also see how they use shovels to remove other objects from the asphalt skirt to facilitate traffic.
Source: BCS Noticias