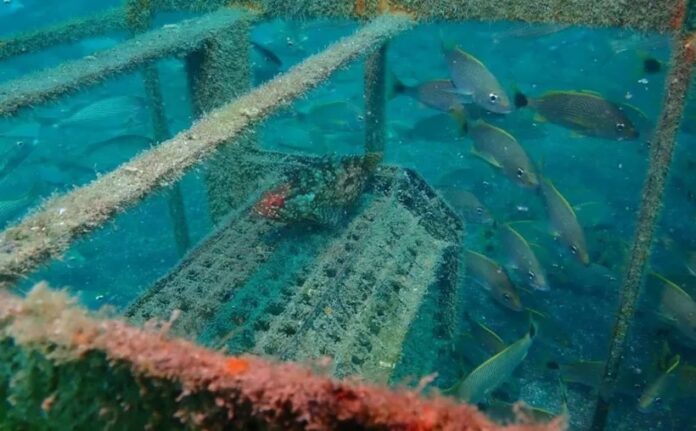 Scientists from Mexico and Japan in collaboration with local fishermen are working together in Baja California Sur using remains of clams, mussels, and oysters, which would usually end up in the trash, to create artificial reefs.
It is part of the design of stainless steel cubes designed by the Japanese company Ocean Construction. In the center is a mesh cylinder with mollusk shells, reported Masaki Katayama, president of the company.
"The shell is the key: the inorganic calcium carbonate responds differently than the organic calcium carbonate that was in a living body. As if (marine) life knew that there was life there and then says: 'It's going to be just fine right herein Baja Sur'"
The explanation was provided by Alejandro Robles, president of NOS Noroeste Sustentable, a partner organization of the Japanese in this initiative.
A total of 200 modules divided into two groups have already been placed on a seabed.
Where you could barely see a handful of fish located one kilometer offshore from San Juan de la Costa, La Paz.
Between May and August, at least 19 species moved to the two artificial reefs, including yellow snappers and schools of donkey fish, Robles highlighted.
The Japan International Cooperation Agency (JICA) invested a million dollars in the project and thanks to the first results, the state government decided to finance another 200 cubes of the so-called "shellnurse" next year, the environmentalist announced at the Sea Forum of Cortés Summit 2023.
Once researchers from the Autonomous University of Baja California Sur (UABCS) systematize the findings, the plan is to expand the initiative to the other four states in the region: Baja California, Sonora, Sinaloa, and Nayarit.
"It seems that it is going to be just as successful as in Japan. The idea is to take it to other places in the Gulf (of California) to help fishing communities recover their overexploited species, to contribute to organizing fishing, and to have more options economical because this can be used for diving and snorkeling," he emphasized.
Source: Reforma